The Surroundings
Espachweiler - Surrounded by beautiful landscape with forests and lakes


Ancient ROMAN LIMES bike ride
Route description:
Our tour starts at the Kocherbrücke in the center of Hüttlingen and we cycle along the Kocher to the Straubenmühle. Here we cross the Kocher and the B19. In Niederalfingen we turn right and follow the Schlierbach in the direction of the castle. In order to reach the castle we have to deal with a steep climb of 13%.
The museum of local history in the Vogteigebäude and the well-preserved Marienburg are a commendable attraction. Before Ebnat we turn right onto the little frequented county road to Ramsenstrut. On the right hand we see the village Neuler. In Ramsenstrut we turn right and drive in the direction of Neuler. This route mostly leads through the forest. After the climb we come to the county road Neuler-Leinenfirst and drive past the car dealer Weis on to the road sign Leinenfirster Straße. Here we turn left and after about 100m turn right. From there you have a wonderful view over the Ellwangen area. The bike trail leads us down a steep descent to Grießweiher. Now we drive past the lake across a forest clearing to Sägweiher where we have to turn right to Espachweiler.
Of course, it is a good idea to take a short rest at the Seegasthof to refresh and recover. After 300m on the county road towards Schrezheim we turn into a forest path and drive past the treatment plant. Then we have to turn left to reach the road 1075 where we first have to turn left and after 300m right to Saverwang. Through Saverwang, crossing below the railway line and then turn right, along the Jagst to Schwabsberg. Here we cross below the county road and then keep on going along the Jagst to Bucher reservoir.
In this area there are a variety of leisure opportunities. (Rowboat, surfing and children's playgrounds). The excavations of a Roman fort, a Roman bath and the Limes can be visited before moving on. From the western end of the lake, passing underneath the main road and railway line, it goes on to Buch. The cycle trail now crosses the main road and leads up to a small hill. At this fork we turn left to Hüttlingen, which we reach after about 2 km. We now find a steep descent in Hüttlingen where we have to cross the main road with traffic lights (!) This is where our tour ends.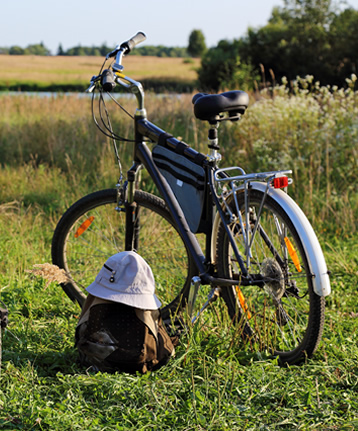 Entry options:
Car park Espachweiler
Car park in the center of Hüttlingen
Car park Bucher Reservoir
What to see:
Niederalfingen: Fugger (Marien) -Castle with youth hostel and local history museum, outdoor swimming pool and Schlierbachtal.
Buch: Roman fort, Roman bathhouse and watchtower.
Neuler: St. Ägidius chapel Bronnen with frescoes from the 13th century.